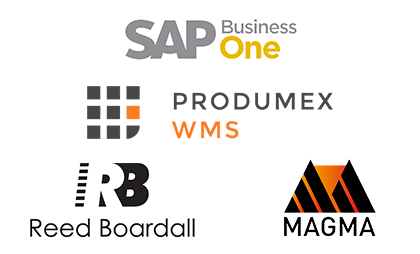 New Integration for International Food Company
We have recently completed an integration project for an international food company, as always using our Magma Integration Toolkit alongside our professional services.
The brief was to build upon a simple integration for Reed Boardall (RB), who act as 3PL (3rd Party Logistics) provider for our client.
The diagrams below show in simple terms how Magma is used to automate the flows of data between the SAP Business One ERP system and its Produmex based WMS (Warehouse Management System) and Reed Boardall.
The client, being in the food industry, requires full batch traceability, and some of the larger customers require SSCC (Serial Shipping Container Code) for ease of booking in goods to their DCs (Distribution Centres). Working together with RB, we were able to achieve this.
Magma has been used by this client since 2007 when we implemented some initial EDI interfaces for their customers, plus a simple EB integration.
Projects have followed in most years since then as the business has grown and evolved, demonstrating the long and successful partnerships that Cindercone build with our clients, and the ability of Magma to flex.